Explore! Experience! Enjoy!
We offer you a 65 km trail adapted to a variety of safari rides, where an unforgettable adventure can be achieved through local roads, pebble roads, lakes, rivers and mountains.
During or after the tour you can enjoy traditional food in the beautiful surroundings on the farm or by the river. A delicious lunch with fresh and homemade specialties will make this one-day trip even better.
This tour contains many hidden natural treasures that have yet to be discovered.
Red Lake is a karst pit filled with water in Imotski. The height difference of the soil is 528 meters, and the depth of the lake is 287 meters, and according to some data, it would be the deepest lake in Europe.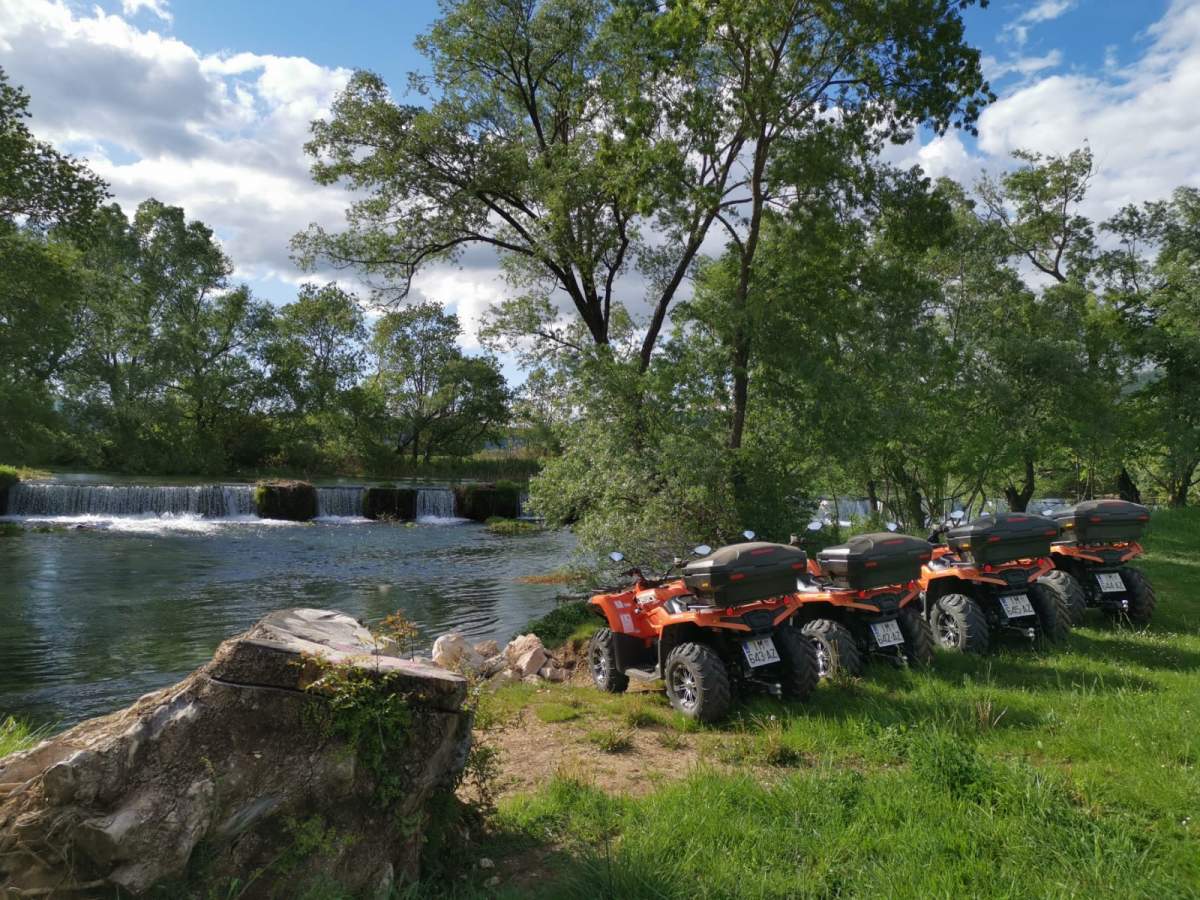 Galipovac is a lake in the Imotski region , located along the northernmost point of the Imotski field . It is the largest of the Lokvičić Lakes and its dimensions are 170x115, while the depth varies between 60 and 80 meters.
Prološko blato is a protected belt of nature located in the Imotski field. It is a flooded area of which only one part is always under water (Prološko Lake).
Two small circular lakes located above the source of the river Vrljika. The lakes are about forty meters in diameter, 6-10 meters deep and never dry up.
Vrljika is a karst submerged river in the Imotski-Bekijsko field. It springs from five springs located on the border of the municipality of Proložac and the town of Imotski. These are Vučja Draga, Dva oka, Utopišće, Jauk and Opačac.
Blue Lake is a karst lake in I Motski . It is considered one of the most beautiful karst lakes in Croatia . The lake is located below the gorge where the Topana fortress is located, and in the immediate vicinity is the Gospin dolac stadium.
Topana Fortress is located on a gorge above Blue Lake. Gospin dolac is a stadium next to the fortress. It was built in 1989. The stadium "Gospin dolac" was named after the votive church of Our Lady of the Angels.
Send us an optional inquiry here!
Your Croatia tours team!
(Croatian)