Want to know what to do in Split Croatia? Don't worry, we've got you covered! In this post, we share the best things to do in Split including top attractions, activities, and day tours.
Did you know that Split is one of the most exciting Croatian towns? Split has a special atmosphere. The city is old, historic, also chaotic, sometimes wild, and often rebellious, but it is a city that leaves its mark on every visitor.
If you have a desire to visit this beautiful city we do not blame you, everyone has it! Just take a look at our rich offer of villas in Split.
Here is our list of the top things to do in Split.
Source: TZ Split
Authors: Maksim Bašić and Ante Verzotti
1. The Old Town of Split
First, let's get the obvious out of the way: visiting the old town is the first thing you should do when you get to Split. It is the heart and soul of Split, set in the Roman palace dating back to the early 4rth century, which is alleged to have been built by Emperor Diocletian as his retirement home. Every visit to Split, short or long, inevitably focuses on wandering Split's narrow, cobbled streets, discovering hidden alleyways, enjoying beautiful architecture and popular Split landmarks. Unique old town squeezed within the walls of the ancient Roman palace, seaside boardwalk buzzing with people night and day.
The old town is easy to visit, although, in a maze of cobblestone streets, it is not always easy to find your way around. We, always get lost, no matter how well we know the old town. But, don't worry, this makes a visit even more interesting, and with so much history around, you always discover new details, alleyways, and passages.
The entire palace is one enormous historical site, but it is also the center of Split's everyday life. This is where you will spend the majority of your time in Split, and where most of the attractions, restaurants, bars, shops, and people are.
The Diocletian Palace is one of ten UNESCO World Heritage Sites in Croatia.
The main landmarks include:
the Peristyle, a court turned town square that is home to the town's Cathedral, the Bell Tower, the entrance into the palace's basements, prothyron, vestibule, and sphinx statues among other things
the Cathedral, dating back to the 7th century
the Bell Tower, offering great views over the town
the town's gates: Golden, Silver, Bronze, and Iron Gate
the Temple of Jupiter, that has been transformed into today's Baptistery in the 6th century
the cellars of the Diocletian's Palace, where you can perceive the actual size of the palace
Gregory of Nin (Grgur Ninski) statue (Rub Gregory's tow for the plenitude of good luck)
many squares and palaces, including Narodni trg (People's Square), and Vocni trg (Fruits' Square), and "Let me pass Street", Split's narrowest street
Source: TZ Split
Authors: Maksim Bašić and Ante Verzotti
2. Marjan Hill in Split
A 178 m high hill, set at the small peninsula, northwest of the old town, Marjan Hill is locals' favorite recreational spot close to the city center. The hill offers numerous footpaths and jogging trails, and it has always been a popular place for walking, jogging, rock-climbing, and mountain-biking. This is also the place where you can find wonderful villas with sea view.
Another reason tourists and locals like to climb the hill is to get wonderful view of the town. And the best part for those who don't like to climb – you don't even need to climb all the way to the summit for the best views. The best panoramic views you get from the café bar Vidilica, way beneath the summit. The Vidilica is a lovely cafe bar perched atop the hill, where you can chill out, and enjoy a view over the town and the sea.
Source: Pixabay
Authors: Bru-nO
3. Game of Thrones Tour
If you are a real Game of Thrones fan then you know that Croatia is a home not only of a King's Landing – world's famous city of Dubrovnik but many coastal towns and villages. Many Croatian ancient cities became Westeros in last few years. Croatia is a country soaked with a history and fascinating cultural heritage so no wonder it was chosen as a crucial filming location of the show.
Don't miss the opportunity to visit Split, cultural and industrial center on this part of Adriatic. Leave the everyday world and follow the path of Daenerys and her army. Become a part of this great show at least for a day.
Most of the scenes in Split were filmed inside the famous Diocletian Palace, home of Roman Emperor Diocletian. Palace is full of theatrical menace and its halls provided great atmosphere for shooting this kind of TV show. Popularity of basement in the old town grows year after year and there are so many guests who don't want to miss the opportunity to visit Daenerys' throne room, place where she kept her dragons locked up for a while and wander the streets that became the former slave city of Mareen. An ancient buildings, old narrow streets and antique surroundings made a perfect choice for the queen Daenerys.
Split is very well connected with other GOT filming spots in area. If you want to complete your mapping and visit Trogir town, Kaštel Gomilica, Šibenik, Žrnovnica village, and Klis fortress...
Split can be base to explore the rest of filming spots in its area.
Source: TZ Split
Authors: Maksim Bašić and Ante Verzotti
4. Beaches
As with any city/village/town in Croatia, the beach is among the first things you want to go see. Naturally, Croatia has a great offering of villas with beaches and beaches are what Split has an endless offering of, as the croats would say, plaže! We wouldn't be doing our job if we didn't mention the most famous one you've probably seen on thousands of lists already: Bačvice. Closest to the old town, and the only sandy beach in the city, it's one downside is being over crowded during the peak of the summer season, so it doesn't hurt, if you've planned your trip for July/August, to explore the beaches at the foot of Marjan Hill, which are generally less crowded. While you are there, make sure to:
Play a Game of PICIGIN with the Locals
This game is said to be older than soccer, and is played with an old, stripped off tennis ball, in shallow water. The idea is to have ball in the air for as long as possible. There aren't winners in picigin. Normally it's played by five players, each standing 6 to 7 meters one from another. The main idea is to throw ball to other payers in a way to make them do attractive jumps, and acrobatic moves. Players can only hit the ball with their palms.Picigin is an integral part of Split identity. And if you visit Bačvice beach (anytime of the year), you should see locals playing this fun game. If you have a chance, join in with locals to try your luck at picigin.
5. Island Hopping
If you're not a fan of cities, Split has great connections with surrounding islands. You would be surprised at how many people visit Split just to hop on a ferry. Island hopping is fun, but although it's relaxing, you still have a destination in mind that you want to reach.
How about a simple day of sailing without anywhere to really go, no real place in mind where you need to arrive. Just pure relaxation at the sea. Out of hustle and bustle of Split, or any tourists-filled sites.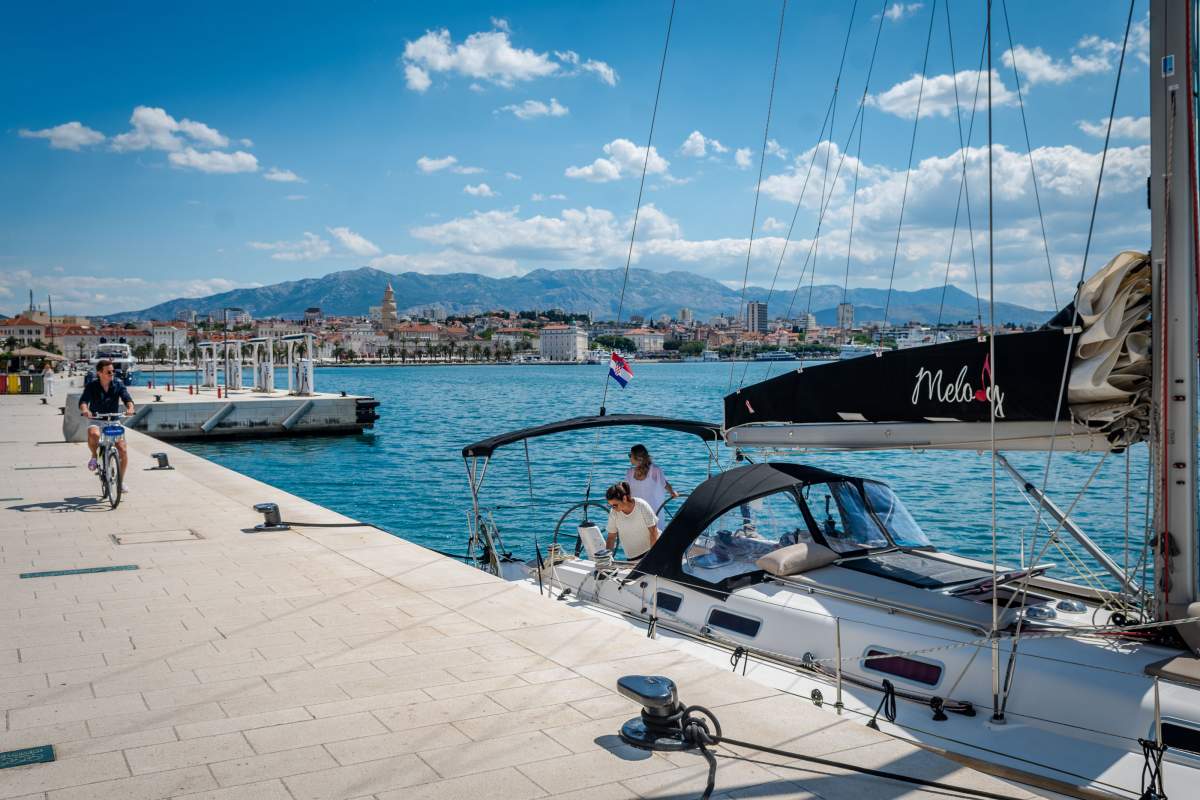 Source: TZ Split
Authors: Maksim Bašić and Ante Verzotti
7. A Destination to Other Destinations
As we mentioned above, Split is one of the top destinations of Croatia for many reasons, and one of the more important ones is its interconnectedness with other cities and points of interests like:
Krka Waterfalls
Plitvice Lakes
Trogir and the Blue Lagoon
Mostar in Bosnia and Hercegovina
ZadarDubrovnik
Mosor Mountain
Biokovo Mountain
Cetina Canyon (zip-lining, canoe safari, river tubing & canyoning)
Omiš (white water rafting)
Kozjak Mountain (jeep safari)
Discover Split with us and book your perfect holiday villa in Split


Split is waiting for you!
#visitsplit